Archive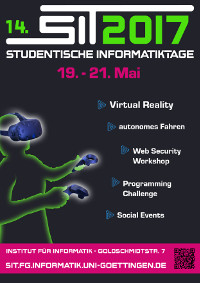 For the 14th time the studentischen Informatiktage (sIT2017) take place in Göttingen between friday, 19th May and sunday, 21th May. This years general topic will be Virtual Reality.
Since it's been received well last year, on sunday there will be a programming challenge once more. We encourage experienced programmers as well as beginners to participate. Of course there will be some prices.
We wish you all lots of fun!
---
Virtual Reality, short "VR", has become a buzzword in the past few years. Probably most of you already heard of it but never tried a VR-haedset on. We want to give you that oportunity. Besides we will show with the haedsets and in VR-related talks, what's behind VR apart from those bulky "glasses", that you have to wear.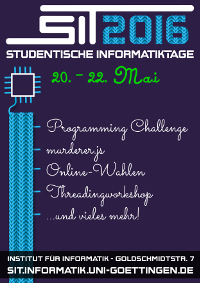 The studentischen Informatiktage (sIT2016) take place in Göttingen between friday, 20th May and sunday, 22th May.
This year we've invited representatives of the companies Polyas, Deriva GmbH, Host Europe and Aicon.
At saturday there will be a crochet ("threading") workshop. Participants will learn the basics in order to create custom items. But beware, do not die during the running murderer.js game.
Sunday there will be some stuff for real programmers and beginners too. You can take part in a programming challenge and even win a price.
We wish you all lots of fun!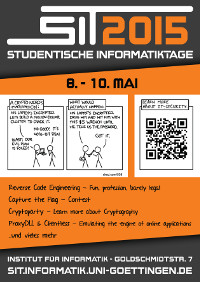 For the twelfth time the computer science student days (Studentische Informatik Tage [sIT2015])
will take place in Göttingen. The sIT2015 is a platform for people interested in computer science and a wide range of workshops, talks, computer science related activities and a cozy supporting program.
sIT2015 target audience:
pupils and students
experienced professional computer scientist
companies and research organizations in IT environment
and all people interested in computer science
sIT2015 objectives
exchange experiences
establish contacts
promoting playful handling of technology
sIT2015-OrgaTeam